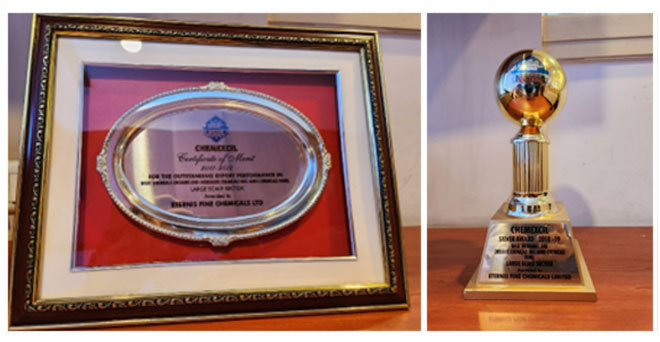 Eternis is very proud to share that it has been awarded Certificate of Merit for outstanding export performance for year 2017-18 & Silver Award for 2018-19. It's a big moment of pride for Eternis & its team for achieving this for 2 consecutive years in a row.
The award has been conferred upon by CHEMEXCIL, Basic Chemicals, Cosmetics & Dyes export Promotion Council, which is Set-up by Ministry of Commerce & Industry, Government of India. In the award distribution function organised by Chemexcil on 15th April 2023 at Mumbai, we received the awards from Ms Anupriya Patel, Hon'ble Minister of State for Commerce and Industry, Government of India. Padma Vibhushan Prof. M.M. Sharma was the guest of honour in the award function.
Eternis continues to be one of the top F&F ingredients player & a dominant exporter in our field. We strongly value our customer proposition & continuously work towards enhancing our customer experience.